SRD's Haunted Acre is Bringing on the Terror this Halloween Season!
Home » Blog » Idaho's Best Weekend Events, Idaho Haunts: An In Depth Look, IdahoHauntedHouses.com News and Updates
October 13, 2020 By Haunt News & Press Releases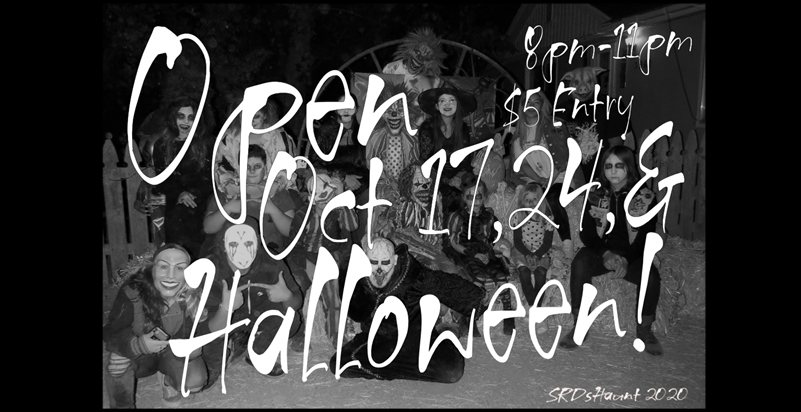 IdahoHauntedHouses.com recently sat down with Nikki And Frank Jorgenson of SRD's Haunted Acre, to discuss what's new at the haunted attraction for the 2020 Halloween Season!
What's new at SRD's Haunted Acre for 2020? Do you have any new rides, attractions, or special features that Haunt Seekers should know about?
Only Haunted House type attraction in Pocatello, ID (According to Riverbend Communications and the Idaho State Journal) For our 5th year of the haunt we are going bigger and better. We held casting auditions for our first professional scare cast. We have added lots of space and new props and cannot wait to see you all. We also added Haunted Hay rides for the first time on Friday nights.
What are you most excited about for the 2020 Halloween Season?
Going every Saturday in October instead of just on Halloween night.
What differentiates SRD's Haunted Acre from other local haunts in Idaho?
Our main inhabitants of the Haunted Acre are Killer Clowns. We are located at a petting zoo and have animals on site. We are fully outdoors. Our haunt is on an acre right in town with easy access to the freeway.
How long has SRD's Haunted Acre been in business? Can you tell us a bit more about SRD's Haunted Acre's history?
SRD stands for Snake River Doodles & Friend's Inc. Our main organization is a Service Dog and Therapy animal organization. The haunt comes from our love of the scare and to raise funds to keep our therapy animal services free to the local hospitals, nursing facilities, and other facilities. We are a local family that loves to spread joy and love all year here in Pocatello. Nikki and Frank grew up with a love for Halloween from childhood. We have been scaring together for 5 years now and cannot wait to have you all back this year.
What's your favorite experience since opening SRD's Haunted Acre?
Watching faces go from laughing to screaming to laughing again on the way out!
How long is a typical haunt experience at SRD's Haunted Acre from start to finish?
5-7 minutes.
On a scale from 1 to 10, how scary would you say SRD's Haunted Acre is? Why?
8. We do not touch, but we bring the real fear and real life jump scares. It will be a killer clown and his pig friend's experience that you won't forget.
Can SRD's Haunted Acre accommodate large groups? How many people can experience SRD's Haunted Acre together as a group?
We can take groups of up to 15 at one time.
Does SRD's Haunted Acre offer any special deals, discounts, or coupons?
Listen to KBear 101, 105 the Hawk, and Z103.