Must-Watch Horror Films to Binge-Watch with Friends This Holiday Season
Home » Blog » Halloween's Hottest Trends, Halloween Headlines
November 27, 2017 By Cait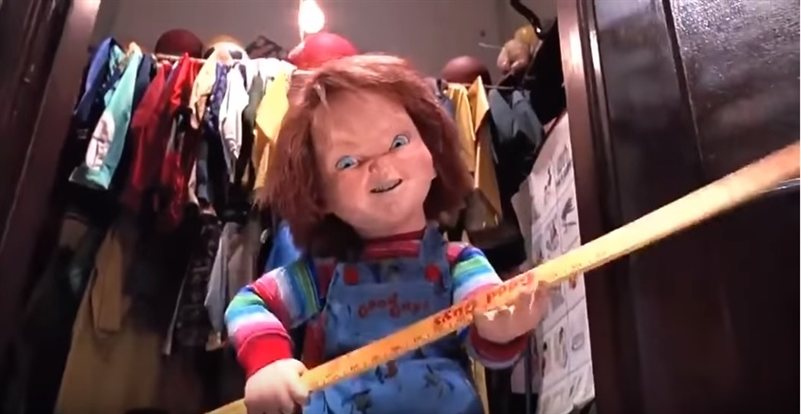 There are now SEVEN films in the Child's Play/Chucky Franchise - Perfect for a Movie Marathon with Friends!
Photo by:
The Chipmunk King via YouTube.
Making your "Home for the Holidays" Plans with friends? With Christmas Break right around the corner, it's time to get ready for some festive fun with friends, and what better way than to put together a binge-worthy playlist of all of your favorite horror flicks?
Watching horror movies is fun, but watching them with a group is even better, so why not plan ahead, and put together an epic playlist of Horror "Classics" (and "Soon to Be Classics", of course), ahead of time, and plan an epic movie night that your friends won't soon forget.
Having trouble getting your playlist started? No problem! Here are some of our favorite Horror Movie Franchises to get things started:
Child's Play - 7 Films - Did you know that there are now

seven

films in the

"Child's Play"

Franchise? You might better recognize this one as "the Chucky films", if you're uninitiated, but this classic franchise kicks off with the original

"Child's Play"

film back in 1988, and "ends" with the most recent installment,

"Cult of Chucky"

, which was released earlier this year (do they ever

really

end though?).

If you think dolls are creepy, or one of your friends is easily spooked by cute dolls gone bad, then this is definitely a top choice. Plus, with seven films, you've got like 2-3 nights worth of fun. Or, one very, very long evening.|


A Nightmare on Elm Street - 9 Films - That's right - there are nine films in the

"Nightmare on Elm Street"

franchise - not to mention TV, comic book, and novel spin-offs. And as they say, "you can't go wrong with a classic", and if there's a horror movie that's a classic, then it is most definitely

"A Nightmare on Elm Street"

.

The original movie was made in 1984, and the sequels and spin offs have been produced like clockwork over the past few decades, with the most recent installment being 2010's

"A Nightmare on Elm Street"

(yes that's right, it has the exact same title as the first movie, plus, it's produced by Michael Bay!). If you want to turn your Horror Movie Night into a Horror Movie Night Week, then this is definitely a horror franchise that should be on your list.


The Evil Dead - 4 Films - Do you love campy horror films? Then

"The Evil Dead"

series is definitely for you. Bruce Campbell & Sam Raimi are pretty much the kings of campy horror, which is why these movies have continued to be favorites for decades.

The special effects are so over the top, it doesn't matter that they're dated - that's what gives them their charm, and makes them funny. Plus hey, who can beat a guy who time travels and has a chainsaw for an arm? Watch the movies to find out!


Scream - 4 Films, 1 TV Series - In 1996, Wes Craven, creator of

"A Nightmare on Elm Street"

, released a little film you might be familiar with

"Scream"

. One of the biggest, most popular horror flicks of all time, it should come as surprise to no one that not only did

"Scream"

get 3 sequels, but it also got its own TV Series on none other than MTV, which is still currently airing (the next season is due out in Winter 2018).

While many will argue that the first

"Scream"

movie is the best, the sequels are definitely fun, and the TV Series is absolutely worth a watch, if you haven't yet had a chance to catch it.

"Scream"

was a game changer for a genre that was in dire need of revitalization, which is why you simply can't have a horror marathon without at least considering including the series.


I Know What You Did Last Summer - 3 Films - Another 90s horror hit,

"I Know What You Did Last Summer"

is a true classic that's incredibly dark. The original slasher flick was released in 1997, and just a year later, in 1998, the sequel,

"I Still Know What You Did Last Summer"

was released. After that, production cooled its jets for almost a decade, but in 2006, another follow up,

"I'll Always Know What You Did Last Summer"

was released.

Ok, so I'll be honest - the first movie in this franchise is clearly the best. But the over the top silly names of the sequels makes them worth adding to the list.


Scary Movie - 5 Films - Did you know that they made

five

"Scary Movie"

films? The original

"Scary Movie"

was released in 2000, and was produced, written by, and starred none other than The Wayans Brothers. The movie was an absolute smash hit, as it spoofed not only

"Scream"

but many of the horror movie tropes we've come to know and love.

Each of the

"Scary Movie"

Films focuses on a different horror flick franchise as its main theme, but they all poke fun at a ton of the horror movie twists we've come to know and love, and has turned them into funny gags. Although some of the later

"Scary Movie"

flicks got mixed reviews, the original film was downright hilarious, and the sequels are definitely worth a watch if you want to break up all that blood and gore with some big laughs.
What's Your Favorite Horror Movie Franchise?
Let Us Know in the Comments Below!