Hershey's Wins at Halloween with Epic Candy Sales, Topping Amazons Top Sweet Treats for Halloween 2017
Home » Blog » Halloween's Hottest Trends, Little Ghost & Ghouls Corner , Halloween Headlines
November 16, 2017 By Cait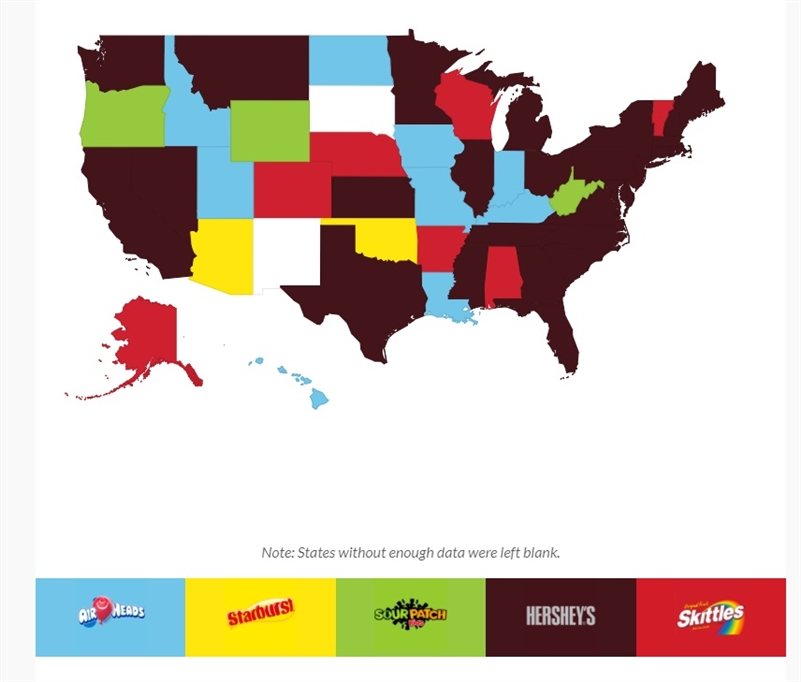 2017's Top Halloween Candy Sales on Amazon by State.
Photo by:
Edison Trends.
This might be hard to believe as your Halloween candy stash might be waning, but Americans spent over $4.1 BILLION dollars on Halloween Candy alone in 2017, according to an Edison Trends story focusing not just on Halloween Candy sales as a whole, but Halloween Candy sales for online retail giant Amazon.

Edison Trends focused specifically on Amazon's Halloween Candy sales for 2017 to see who reigned supreme by taking a look at what brands of candy were most popular in October 2017 on Amazon according to the receipts.

Although Airheads reigned supreme in Idaho, that wasn't the case for the entire country - Hershey's dominated the top candy picks winning most popular in 28 out of 50 states, and Hershey's was the only chocolate brand to be represented in the Top 5 Chocolate Brands sold on Amazon in October of 2017 for the entire country.
That said, the study did not take the "mixed bags" into account, as they often contain a variety of types and brands of candy, but they did note that the mixed bags of treats were "just as popular" as any specific candy brand.
What Candy Reigns Supreme for You on Halloween?
Let Us Know About Your Halloween Faves in the Comments Below!